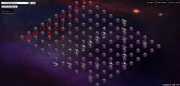 Restriced Instance 3 Drops from Challenging Quest 3 box.
Edit
Healing Card 35%
Revival Card 30%
Raw Gemstone 20%
Independence (Blueprint) 15%
Note these are in the order you are most likely to recieve this item. So, you have the highest chance of recieving a Healing Card from a Challenging Quest 3 box.
Percentages are a rough estimate.
Advice for Restricted Instance 3...
Edit
Regen armor tends to work best here. I never lost a ship running this instance with just 6 Eos Phaseshift-III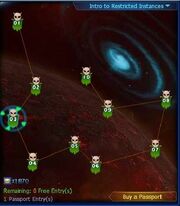 shields on 1,500 stacks of ships; however, be warned that Chrome Armor can take sever punishment from flanks. (I lost about 100-500 Howlers; however, they only had 4 Eos Phaseshift-III Shields.) Ballistics is a good choice to have here; Bruce will drain your he3 with his ability going off about 1/4 of the time on a fleet. Expect him to go off at least 2-3 times every attack. This can be brutal on Ship-Based Fleets. Happy Hunting.

Type of Ships in this ristriced instance. Total 48,720 enemy ships, all in stacks of 300 in the fleets
1. Name : Cerberus
Extreme Counter Attack-III x1
Powered Pulse Cannon-III x2
Daedalus Control System-III x1
Reflective Plating-III x1
Gravity Maint. Facility-III x1
Atomic Framwork x5

2. Name : Encratos-A

"Tenho" Dimensional Bomb-III x8
Team Combat Engine x3
Auto Target System-III x1
Daedalus Control System-III x1
Extreme Counterattack-III x1
Quick Reaction Armor-III x1
Eos Phase Shift Shield-III x2

3. Name : Prometheus

"Hellfire" Missile Pod-I x1
"Hellfire" Missile Pod-II x1
"Hellfire" Missile Pod-III x6
Powered Pulse Cannon-III x2
Eos Phase Shift Shield-III x2
Reflective Plating-III x1

And a lot of Lv2 Meteor Stars

P.S. Ships weapons and modules detail can be found in Corp mall.

-S09 Hydra, DjPulse
Instances
Constellations Instances
Capricorn Constellation

Capricorn.C01  · Capricorn.C02  · Capricorn.C03  · Capricorn.C04

Aquarius Constellation
Pisces Constellation
Leo Constellation
Virgo Constellation
Sagitarius Constellation

Sagitarius.S01  · Sagitarius.S02  · Sagitarius.S03  · Sagitarius.S04

Libra Constellation
Taurus Constellation
Ad blocker interference detected!
Wikia is a free-to-use site that makes money from advertising. We have a modified experience for viewers using ad blockers

Wikia is not accessible if you've made further modifications. Remove the custom ad blocker rule(s) and the page will load as expected.