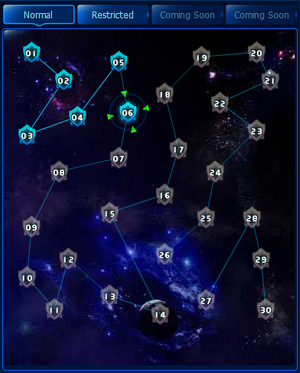 The Syndicate is commonly associated with all manners of dirty dealings and wrongdoings within the galaxy to satisfy bother their nefarious plans and deranged personalities. Will you be the one to bring the hammer of justice down on these villians?
Instance Information
Edit
Quest: Destroy all enemy warships in this round.
Max Players: 1
Max Fleets: 6
Checkpoints: 1
Exp: 2310
Enemy Fleets
Edit
You start seeing newer ship hulls in this instance, namely RV766 missile boats and a large fleet of Watchman Cruisers with Ship based weapons. This fleet can really punch through your defenses if you don't have enough protection. It attacks your fleet with the highest attack power so put a line of defensive ships in the front of that fleet and you should be ok. AA guns are a good idea. Luckily the 2 fleets attack head on so you can arrange to have more defensive ships up front to take the fire.
CheckpointEdit
2 x 18-Laser (Fleet)
Edit
Ships: 80 Diaz-III Battleship in 1 stack, 490 Palenka-III Battleship in 7 stacks (80/80/70/70/70/60/60)
Armaments: 8 x The Sumo-III, 1 x The Sumo-II
Defenses: 2 x Atomic Framework  2 x Energy Armor-III, 1 x Daedalus Control System-III, 2 x Gravity Maintenance Facility-III, 1 x Agility Booster-III, 2 x Powered Pulse Cannon-I, 2 x Anti-Aircraft Cannon-III3 x Eos Phase Shift Shield-III, 1 x ECM Booster-III, 1 x Quick Reaction Armor-III
Commander: N/A
4 x 15-Missle (Fleet)
Edit
Ships: 100 Diaz-III in 2 stacks, 150 RV-766-II Battleship in 3 stacks (50/50/50)
 Lv 6 Treasure Box: random chance of having one of the following items.
Gold
Metal
He3
Ladybug(Blueprint) - Ship-Based blueprint
Heavy Duty(Blueprint) - Planet Blueprint
"Wiseman" Scatterbomb(Blueprint) - Ballistics Blueprint
Guided Laser Bomb(Blueprint) - Directional Weapons Blueprint
"Razor" Missle Pod(Blueprint) - Missile Blueprint
Instances
Constellations Instances
Capricorn Constellation

Capricorn.C01  · Capricorn.C02  · Capricorn.C03  · Capricorn.C04

Aquarius Constellation
Pisces Constellation
Leo Constellation
Virgo Constellation
Sagitarius Constellation

Sagitarius.S01  · Sagitarius.S02  · Sagitarius.S03  · Sagitarius.S04

Libra Constellation
Taurus Constellation
Ad blocker interference detected!
Wikia is a free-to-use site that makes money from advertising. We have a modified experience for viewers using ad blockers

Wikia is not accessible if you've made further modifications. Remove the custom ad blocker rule(s) and the page will load as expected.