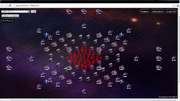 About 09 The Decision
Edit
 Ri9 is Filled with fleets of Tier 2 Badge ships. There are 2400 ships per stack, 21,600 ships per fleet, all Fleets commanded by lvl 51 8* Bruces. All ships are armed with Instance 27/30 weapons. 
All ship's hulls are researched to level III. All ships other then the Alliance Admiral-III have reflective plating 3.
56 Fleets, 12 lvl 2 metor stars, 20 lvl 6 partical cannons, 4 lvl 5 thors
20 ballistic Striking sword fleets.
16 Directional Last Stand fleets.
12 Missle Alliance Admiral fleets.
8 Ship based Last Stand fleets.
12 Lvl 2 meteor stars.
20 Lvl 6 partical cannons.
4 Lvl 5 thors.
Total of 56 fleets- 1,209,600 ships. All ships spawn in a box pattern with your Fleets surrounded in the middle of the map.
You will be allowed to send 25 fleets (675,000 max ships) and you can lose ships permanently (losses are NOT recovered by the Spacedock just as in Normal Instances  ) in Restricted instances.
Instance Map
Edit
How to do ri9 with using only Common Commanders and no loses
Other Tips
Edit
Instances
Constellations Instances
Capricorn Constellation

Capricorn.C01  · Capricorn.C02  · Capricorn.C03  · Capricorn.C04

Aquarius Constellation
Pisces Constellation
Leo Constellation
Virgo Constellation
Sagitarius Constellation

Sagitarius.S01  · Sagitarius.S02  · Sagitarius.S03  · Sagitarius.S04

Libra Constellation
Taurus Constellation
Ad blocker interference detected!
Wikia is a free-to-use site that makes money from advertising. We have a modified experience for viewers using ad blockers

Wikia is not accessible if you've made further modifications. Remove the custom ad blocker rule(s) and the page will load as expected.