Alicia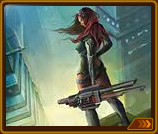 Skills:

Inspiration
| | |
| --- | --- |
| | 150 |
One of the greatest commanders, Alicia has made a name as a no-nonsense, no-mistakes personality. Though many whisper that she received her promotions because her predecessors were removed, Alicia is respected as a person of strong convictions. Her experience with formations allows her to target enemy formation weaknesses, destroying them with ease.
Inspiration

Has a chance to increase the damage dealt by the ship in the next slot of the formation by 30%. Affected by the Accuracy attribute.
Commander's Chance to Trigger Ability
Edit
Note: The initial chance is the chance to trigger their ability when the total number of the related stats is 0. As the related stats increase, the chance to trigger commander ability will increase too. Click on the link to see a list and explanation of all Commander's Chance to Trigger Abilities.
The table shows the chance based on 500, 1000, 1500 and 1800 related stats.
Name
Type
Initial Chance
Accuracy
500
1000
1200
1500
1800
Alicia
Skill
18%
32%
72%
94.07%
135%
183%