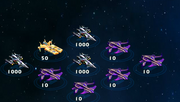 This formation deals primarily against fleets equipped with the infamous Conquistador-X ships that lay additional scattering damage to the attacked fleet. It aims to reduce damage on the main ships by using decoy stacking at the front and sides to prevent taking massive damage.
A common variant (shown in the picture above) is this:
D D D
D G D
G F G
where:

D-decoy stack

G-glass or any offensive ship

F-Huma flagships, especially CQ-X.
Another variant is this:
D D D
G G G
D F D
It will reduce scattering damage from fleets equipped with CQ-X.
Putting CQ-X as flagship will help a bit in countering the loss of massive damage caused by decoy stacking.
Avoids losing important ships when attacked at front.
Rear attack will kill off the flagship and the offensive ships.
Reduced damage output not only because of the lack of sizeable offensive ships but also from formation.
Where used
Edit
This is best used on PvP.
Ad blocker interference detected!
Wikia is a free-to-use site that makes money from advertising. We have a modified experience for viewers using ad blockers

Wikia is not accessible if you've made further modifications. Remove the custom ad blocker rule(s) and the page will load as expected.