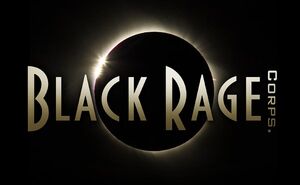 bLackRagE corps was originally owned by web2sign and passed to his new account which he named the same with its corps, bLackRagE.
Original Members
bLackRagE
PortmanHunter
TaoBaKoInay
JoninE
alo_123456789123
redfox29
Kubotech
marlou
galaxial_pirate
genesis230
XCONN4EVER
Tekenlord
Butchy
kayerald01
kamisote
GalacticA
Tatah
precious_belle
Awtss
third
ikatursi
JadeSchool
art0ne
rose_atalie
Lordfrozen
HazelNut
GoliathMoya
papa.Spy
bendaime
missNammy
sgt.kLein
DeathPsyche
MuseJanet
onrej
ChezterIvhan
air747
kapoynamo
zeReaper13
EhxDesu
Pact

On the month of March, bLackRagE corps starts its journey. During the Reign of Harabas corps, a lot of wars happened, alliance have been made and yet, bLackRagE corps remains quiet, neutral and peace, until the day that FinalPhoenix and its allies attacked them for the reason that bLackRagE corps denied their alliance request.
bLackRagE corps members are unprepared for that attacks, they've beed attacked one by one while offline by different corps(FinalPhoenix/Galatic_Group/Nightmare/Genesis). Its bLackRagE's doomsday and made a lot of its members quit.
bLackRagE corps received a merge request from its ally, Coulrophobia.
Now the bLackRagE members continued their journey with its new home Coulrophobia.

Battles
bLackRagE vs moshnster(BLITZKRIEG) at zone 27 - defended his corpsmate
Kubotech vs Jozel(STARWARZ) at zone 34(Butchy's Planet) - defended his former corpsmate, Kubotech was 2 days old Harabas member during that time.
XCONN4EVER vs FinalPhoenix/STARWARZ - attacked a FinalPhoenix member but ganked
bLackRagE vs StarFleet at rose_atalie's planet
Tatah vs Bientastic(Harabas) - at third's planet, defended her corpsmate
bLackRagE,TaoBaKoInay,alo_123456789123 and redfox29 vs STARWARZ at zone 27 - attacked a STARWARZ member to retaliate but ganked.
bLackRagE corps vs FP Alliance at Butchy's planet
bLackRagE vs Ryan21(Genesis) at DeathPsyche's planet

Friends
Ad blocker interference detected!
Wikia is a free-to-use site that makes money from advertising. We have a modified experience for viewers using ad blockers

Wikia is not accessible if you've made further modifications. Remove the custom ad blocker rule(s) and the page will load as expected.