Bart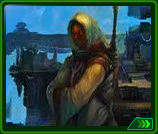 Skills:

Raid
| | |
| --- | --- |
| | 600 |
Bart was born into a well-known family of military commanders. His grandfather was once the chief commander of the Galactic Army, and his parents were once top commanders. In such a family, Bart has been exposed to the fine art of battle and command since a very young age, and when he turned 18 he naturally joined the Army. Since that time, he has quickly risen through the ranks, becoming a famous commander in his own right. Bart has a chance to avoid attacks and increase his attack power by 15% in the round he takes action.
Raid

Has a chance to dodge attacks and increase Attack Power by 15% for one round. Affected by the Electron and Speed attributes.
Commander's Chance to Trigger Ability
Edit
Note: The initial chance is the chance to trigger their ability when the total number of the related stats is 0. As the related stats increase, the chance to trigger commander ability will increase too. Click on the link to see a list and explanation of all Commander's Chance to Trigger Abilities.
The table shows the chance based on 500, 1000, 1500 and 1800 related stats.
Name
Type
Initial Chance
Electron and Speed Stats
500
1000
1200
1500
1800
Bart
Legendary
15%
20.60%
37.08%
46.68%
64.27%
85.70%
Divine Commander
Edit
This Commander can be combined with other commanders to form a Divine Commander. The Combined Commander becomes a Divine Commander with special abilities. The following is a list of Divine Commanders that can be created with this Commander:
| | Name | Scroll | Card | Commander #1 | Commander #2 |
| --- | --- | --- | --- | --- | --- |
| | Leech Lurkers | | | | |
| | Lurking Light | File:Lurking Light Scroll.jpg | | | |
| | Winter Knights | | | | |
| | Queen of Blades | | | | |