Beginning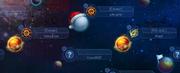 One of the fiercest battles of the armorgames.com Ursa Major server occurred at 174,398, at player Maeh's base. The battle began at 2013/July/25th.10;00pm during a level 3 pirate attack.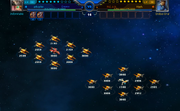 The Initial Attack
Edit
Artkashin, Encan, and SensaDue of corps Ёжики attacked Maeh of corps M.E.A.N. with full fleets of high tech ship hulls, comms, and weapons. After 1 hour the battle expanded to an all out war with heavy hitters from neptune and helios one getting involved as well as reinforcements from M.E.A.N.  
Battle Summary
Edit
The battle lasted for 21 rounds and approximately 4 hours.   Before the bulk of reinforcment from M.E.A.N arrived it almost looked like the joint efforts of Helios-One, Neptune, and the Russians could win.  Attacking players artkashin, Sensadue and Encan caused major havoc, as well as LittleAzelie of Neptune.  However at round 12 leader of M.E.A.N. Obi119 with 8 player reinforcement including Cryselle , Panda.... etc confronted the attackers. The attackers however ran out of He3 eventually.  Still they manage to take out some of the reinforcements.  The battle was won by M.E.A.N. with significant damage on the losing side, 2.1 million ships lost (450k of which were pirates), and only 650k+ ships lost on the defending side.  The battle affected rankings based on attack power, and shootdowns significantley, and looks to impact the upcoming champions league, in the favor of the more powerful corps who didn't join in.
Notable Participants
Edit
Ёжики
Encan
Artkashin
SensaDue
M.E.A.N.
cryselle
Maeh
nodbound
jimcom0908
obi113
skylera7777
TrixsterMTL

Neptune
13r06
lokian
hralien
LittleAzelie
Helios-One
Xgriever
billy1928
M21silenced
Nerkzharklokriij
See Slideshow
Could it have ended differently?
-Without skylerra7777, jimcom0908, and trixsterMTL of M.E.A.N arriving early to aid Maeh, many believe the joint efforts of neptune, helios and the russians may have won before M.E.A.N. could get there.
Ad blocker interference detected!
Wikia is a free-to-use site that makes money from advertising. We have a modified experience for viewers using ad blockers

Wikia is not accessible if you've made further modifications. Remove the custom ad blocker rule(s) and the page will load as expected.