Callisto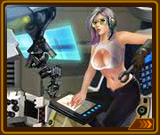 Skills:

A Fire Rises
| | |
| --- | --- |
| | 600 |
Unlike her Illiadan brethren that sought refuge with the Federation, Callisto joined the Federation in hopes they would satisfy her lust for battle. There was little hesitation on the part of the Federation in accepting Callisto's offer of peerless talent and god-like powers. Even the Illiada exalt Callisto as a -being beyond mortals-, earning her the title of a -God amongst Gods- within the Federation.
A Fire Rises
Each attacking stack has a chance to increase the fleet's attack strength by 10%. Boost can be stacked and remains in effect until end of the battle. Affected by the Accuracy attribute.
Commander's Chance to Trigger Ability
Edit
Note: The initial chance is the chance to trigger their ability when the total number of the related stats is 0. As the related stats increase, the chance to trigger commander ability will increase too. Click on the link to see a list and explanation of all Commander's Chance to Trigger Abilities.
The table shows the chance based on 500, 1000, 1500 and 1800 related stats.
Name
Type
Initial Chance
Accuracy and Dodge Stats
500
1000
1200
1500
1800
Callisto
Legendary
??%
??%
??%
??%
??%
??%
Divine Commander
Edit
This Commander can be combined with
Bart
commander to form a
Queens of Blades
. The Combined Commander becomes a Divine Commander with special abilities. The following is a list of Divine Commanders that can be created with this Commander:
The Scroll chest is available as a drop in the all Scorpio Constellations.
Ad blocker interference detected!
Wikia is a free-to-use site that makes money from advertising. We have a modified experience for viewers using ad blockers

Wikia is not accessible if you've made further modifications. Remove the custom ad blocker rule(s) and the page will load as expected.