Capricorn Constellation
Edit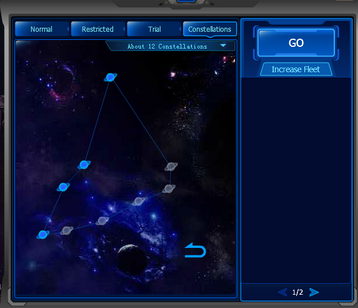 The Capricorn Constellation is the first of
twelve constellations
released in the game. The Constellation features nine scenarios to battle, but four to date. These scenarios are the easiest of the eleven currently available constellations and as such best places for newer players to obtain their first
Black Hole
ship blueprint, but still shouldn't be underestimated. Like
Scenario Instances
, no ships will be lost in these battles, only He3 and only a limited number of fleets. To start off these ships are
Black Hole
ships outfitted with "trial weapons" (weapons from
Trial 50
.) commanded by 9-star
Divine Commanders
.
The following link is an interactive view of all of the Constellation Instances, ships and information. A very useful tool.
Instance Rewards
Edit
Capricorn Constellation Instances Overview
Edit
Other Constellations
Edit
Choose an instance:
Ad blocker interference detected!
Wikia is a free-to-use site that makes money from advertising. We have a modified experience for viewers using ad blockers

Wikia is not accessible if you've made further modifications. Remove the custom ad blocker rule(s) and the page will load as expected.