Carlos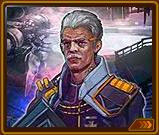 Skills:

Fear Fiend
| | |
| --- | --- |
| | 600 |
Carlos is a veteran from the early wars of the Alliance. He is a revered strategist but his fool-hardy nature has left him with few allies. In fact, his actions led to his banishment from the Alliance after a crushing defeat in the Sagittarius System. After the Pirates began invading Galaxy, Carlos was reinstated to his position of power. Few know what he was scheming during his exile, but rumors of his activities have struck pure terror into the hearts of his enemies.
How to Obtain
Edit
This commander is only available through events.
Fear Fiend

Deals additional damage to enemy fleet ship structures. Actual amounts are based on the amount of damage dealt to enemy ship shields. Affected by Accuracy and Speed ratings.
Commander's Chance to Trigger Ability
Edit
Note: The initial chance is the chance to trigger their ability when the total number of the related stats is 0. As the related stats increase, the chance to trigger commander ability will increase too. Click on the link to see a list and explanation of all Commander's Chance to Trigger Abilities.
The table shows the chance based on 500, 1000, 1500 and 1800 related stats.
Name
Type
Initial Chance
Accuracy and Speed Stats
500
1000
1200
1500
1800
Carlos
Legendary
?
?
?
?
?
?
Divine Commander
Edit
This Commander can be combined with other commanders to form a
Divine Commander
. The Combined Commander becomes a Divine Commander with special abilities. The following is a list of Divine Commanders that can be created with this Commander:
Ad blocker interference detected!
Wikia is a free-to-use site that makes money from advertising. We have a modified experience for viewers using ad blockers

Wikia is not accessible if you've made further modifications. Remove the custom ad blocker rule(s) and the page will load as expected.