Cassius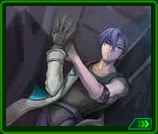 Skills:

Knockout Blow
| | |
| --- | --- |
| | 600 |
Cassius feared as much as he is respected. Unrivaled in hand-to-hand combat, his fleet maneuvers are as visceral as his brawls. Cassius history is a tale of fortune and tragedy. Born into wealth, Cassius was privileged to study under Marcus and Hellen. However, his days as a youth were troubled and often found him on the wrong side of law. His constant infractions caused the loss of his family's wealth and his right arm. He eventually turned his life around by directing his anger into the fight against space pirates. One of his most famous exploits was a daring into a space pirates fortress with only 10 other space rangers. The squad took down the defenders and apprehended the pirate captain without a single casualty, making Cassius a legend throughout the galaxy.
Knockout Blow
Commander's Chance to Trigger Ability
Edit
Note: The initial chance is the chance to trigger their ability when the total number of the related stats is 0. As the related stats increase, the chance to trigger commander ability will increase too. Click on the link to see a list and explanation of all Commander's Chance to Trigger Abilities.
The table shows the chance based on 500, 1000, 1500 and 1800 related stats.
Name
Type
Initial Chance
Accuracy and Dodge Stats
500
1000
1200
1500
1800
Cassius
Legendary
15.00%
25.86%
61.54%
83.25%
124.05%
174.92%
Ad blocker interference detected!
Wikia is a free-to-use site that makes money from advertising. We have a modified experience for viewers using ad blockers

Wikia is not accessible if you've made further modifications. Remove the custom ad blocker rule(s) and the page will load as expected.