Circe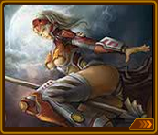 Skills:

Hex
| | |
| --- | --- |
| | 600 |
Description:
Circe is descended from a long line of shamans. In an era where rituals and mysticism are scorned, Circe has endured the derision of her peers for her heritage. In spite of the difficult years growing up, she became an accomplished commander, graduating with honors from the Federation academy. When a routine patrol mission entered a disastrous encounter with a space pirate armada, Circe's latent powers awoke. She saved her fleet from total annihilation and was awarded the highest honor of bravery in the Federation. She's now dedication to realizing her full potential as a shaman, offering a unique option in the Federation's arsenal.
Hex
While defending against an attack, has a chance to prevent the enemy commander from using skills in the next Round. Affected by Accuracy and Dodge attributes.
Commander's Chance to Trigger Ability
Edit
Note: The initial chance is the chance to trigger their ability when the total number of the related stats is 0. As the related stats increase, the chance to trigger commander ability will increase too. Click on the link to see a list and explanation of all Commander's Chance to Trigger Abilities.
The table shows the chance based on 500, 1000, 1500 and 1800 related stats.
Name
Type
Initial Chance
Accuracy and Dodge Stats
500
1000
1200
1500
1800
Circe
Legendary
15%
21.25%
40.00%
51.00%
71.25%
96.00%
Divine Commander
Edit
This Commander can be combined with other commanders to form a Divine Commander. The Combined Commander becomes a Divine Commander with special abilities. The following is a list of Divine Commanders that can be created with this Commander:
| | Name | Scroll | Card | Commander #1 | Commander #2 |
| --- | --- | --- | --- | --- | --- |
| (icon) | Technomancers | (icon) | | | |
Ad blocker interference detected!
Wikia is a free-to-use site that makes money from advertising. We have a modified experience for viewers using ad blockers

Wikia is not accessible if you've made further modifications. Remove the custom ad blocker rule(s) and the page will load as expected.