Common, Common Commander'Edit
| Accuracy | Dodge | Speed | Electronics |
| --- | --- | --- | --- |
| Varies | Varies | Varies | Varies |
| Ballistic | Directional | Missile | Ship-based |
| Varies | Varies | Varies | Varies |
| Planetary | Frigate | Cruiser | Battleship |
| Varies | Varies | Varies | Varies |

Skill = None
Commander's Chance to Trigger Ability
Edit
The Common Commander does not have any special abilities.
Description
Edit
The Common Commander is the run-of-the-mill commander, with no special skills. It is created from the Command Center.
Best Common Commanders
Edit
It is at most 1 born A attribute (without Gem) on a Common Commander.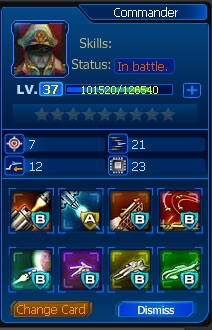 Rest are pure random B~D.
Ad blocker interference detected!
Wikia is a free-to-use site that makes money from advertising. We have a modified experience for viewers using ad blockers

Wikia is not accessible if you've made further modifications. Remove the custom ad blocker rule(s) and the page will load as expected.