Ad blocker interference detected!
Wikia is a free-to-use site that makes money from advertising. We have a modified experience for viewers using ad blockers

Wikia is not accessible if you've made further modifications. Remove the custom ad blocker rule(s) and the page will load as expected.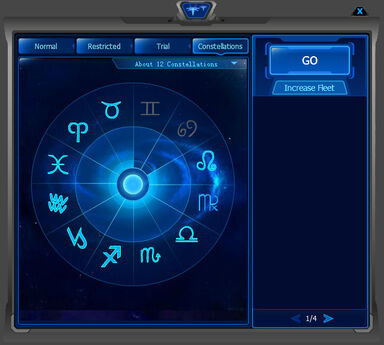 The
12 Constellations Instances
are the latest instances released by the GO2 developers on 22 December 2011. The set-up is fairly similar to
Restricted Instances
, except that the 12 Constellations can be only played if you have a Constellation Pass

but access to it is unlimited. Each single attempt at any constellation instance will consume the constellation pass. This cannot be undone once you press go after selecting your ships. The constellation must be in your inventory bag, not the corp vault.
To enter a 12 constellations instance, click your Space Station, then click Instances. Click Constellations and click the sign which is illuminated in blue.
Then, click any of the illuminated planets and set it up like every other instance.
Like Scenario Instances, this will not result in permanent destruction of warships and only He3 will be consumed.
The following link is an interactive view of all of the Constellation Instances, ships and information. A very useful tool.
The 12 Constellations
Edit
The 12 constellations are:
Level
 
Name
1
Capricorn
2
Aquarius
3
Pisces
4
Leo
5
Virgo
6
Sagitarius
7
Libra
8
Taurus
9
Aries

10
Gemini

(Unreleased)

11
Cancer
12
Scorpio
Other Instances
Edit
Choose an instance: