Constellation Instances
Comments

8
1,043pages on
this wiki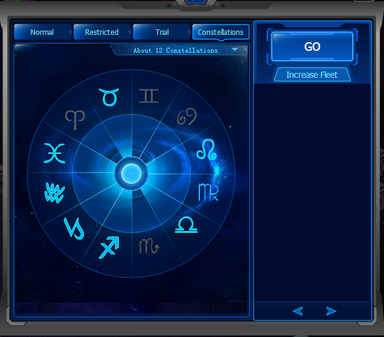 The
12 Constellations Instances
are the latest instances released by the GO2 developers on 22 December 2011. The set-up is merely similar to
Restricted Instances
, except that the 12 Constellations can be only played if you have a Constellation Pass

but access to it is unlimited.
To enter a 12 constellations instance, click your Space Station, then click Instances. Click Constellations and click the sign which is illuminated in blue.
Then, click any of the illuminated planets and set it up like every other instance.

Like Scenario Instances, this will not result in permanent destruction of warships and only He3 will be consumed.
The following link is an interactive view of all of the Constellation Instances, ships and information. A very useful tool.
The 12 Constellations
Edit
The 12 constellations are:
Level
 
Name
1
Capricorn
2
Aquarius
3
Pisces
4
Leo
5
Virgo
6
Sagitarius
7
Libra
8
Taurus
Aries

(Unreleased)

Gemini

(Unreleased)

Cancer

(Unreleased)

Scorpio
Other Instances
Edit
Choose an instance: