Desolate Prayers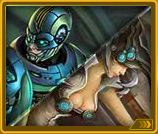 Skills:

Decaying Wane
| | |
| --- | --- |
| | 600 |
This commander is a combination of Aileen and Stani.
How to Obtain
Edit
Random chance to draw. This commander can also be created with the Desolate Prayers Scroll.

Decaying Wane
Commander's Chance to Trigger Ability
Edit
Note: The initial chance is the chance to trigger their ability when the total number of the related stats is 0. As the related stats increase, the chance to trigger commander ability will increase too. Click on the link to see a list and explanation of all Commander's Chance to Trigger Abilities.
The table shows the chance based on 500, 1000, 1500 and 1800 related stats.
Name
Type
Initial Chance
Accuracy and Speed Stats
500
1000
1200
1500
1800
Desolate Prayers
Divine
15%
21.25%
40%
51%
71.25%
96%
Player use
Edit
With the threat of tanks commanded by Divines, Desolate Prayers have been proven successful in busting non-Rayo-based Divine tanks such as Indomitable Duo and Ererbus Errants. If DP's stats are higher than those of a Death from Above, then the latter can be disabled by next round and lose its tanking ability.
Ad blocker interference detected!
Wikia is a free-to-use site that makes money from advertising. We have a modified experience for viewers using ad blockers

Wikia is not accessible if you've made further modifications. Remove the custom ad blocker rule(s) and the page will load as expected.