Donna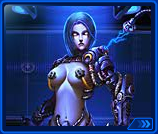 Skills:

Defensive Intensity
| | |
| --- | --- |
| | 150 |
As a qualified and able commander, Donna has sworn to protect the people of the galaxy. She has done extensive research in the area of defensive technologies and has incorporated them into her ships, enabling them to quickly recover shield strength and better protect people from the scum of the universe.
Defensive Intensity

Has a chance to restore 15% of maximum Shields at the start of each round. Affected by the Speed attribute.
Commander's Chance to Trigger Ability
Edit
Note: The initial chance is the chance to trigger their ability when the total number of the related stats is 0. As the related stats increase, the chance to trigger commander ability will increase too. Click on the link to see a list and explanation of all Commander's Chance to Trigger Abilities.
The table shows the chance based on 500, 1000, 1500 and 1800 related stats.
Name
Type
Initial Chance
Speed
500
1000
1200
1500
1800
Donna
Skill
25%
38%
75%
95.87%
133%
178.12%