Effective Stack
Comments

34
1,076pages on
this wiki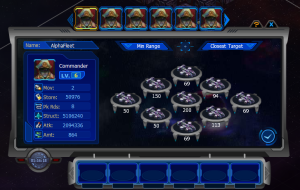 The effective stack is the number of ships that can participate in combat when one stack fires on another.
Effective Stack
Edit
Fleets are made of 9 stacks, with up to 3000 ships each. However, during combat, only a portion of each stack will fight. The ships fight as if they had only the effective stack number of ships engaged, with the exception that shield points and hull structure points of the rest of the stack are in the common pool. Any active module that uses He3 is affected by effective stacking.
The star ranking of your commander determines your maximum effective stack size. This is perhaps the biggest benefit of high star commanders- using more ships in a fight. This means more damage dealt and more damage mitigation from defenses.
Flagships
Edit
Standard Flagships such as the Independence and Black Hole have an effective stack of one of the main ship types, plus the Flagship bonus (100). The Independence is a Cruiser with the Flagship bonus while the Black Hole is a Battleship with the Flagship bonus. All Humaroid Flagships are Battleship type hulls with the Flagship bonus. At the time of this writing, there are no Frigate based Flagships. Liberty wings is the Frigate based Flagship, however due to game enigine limitations it had to be given -100 instead of +100 or it would have exceeded the 3000 ship limit in some circumstances.
Flagships based on Battleship hulls, like the Black Hole or any Humaroid Flagship, are best commanded with high Battleship Skills. The Independence, currently the only Cruiser based on Flagship, is better commanded with high skills in Cruisers. If both ships are used in the same fleet then the best commander is one that is rated at least B in both Cruisers and Battleships.
You can use an existing Commander that is normally deficient in such skill ratings by enhancing that commander with gems. Notably, Battleship and Cruiser Diamonds of level III or higher.
Common Commanders
Edit
| | Bonus | Frigate | Cruiser | Battleship | Cruiser Flagship | Battleship Flagship |
| --- | --- | --- | --- | --- | --- | --- |
| | 0% | 1100 | 1000 | 900 | 1100 | 1000 |
Skill Commanders
Edit
| | Bonus | Frigate | Cruiser | Battleship | Cruiser Flagship | Battleship Flagship |
| --- | --- | --- | --- | --- | --- | --- |
| | 2.2% | 1124 | 1022 | 920 | 1122 | 1020 |
| | 6.8% | 1174 | 1068 | 961 | 1168 | 1061 |
| | 13.9% | 1253 | 1139 | 1025 | 1239 | 1125 |
| | 24.0% | 1364 | 1240 | 1116 | 1340 | 1216 |
| | 37.8% | 1516 | 1378 | 1240 | 1478 | 1340 |
| | 56.2% | 1718 | 1562 | 1405 | 1662 | 1505 |
| | 80.4% | 1985 | 1804 | 1624 | 1904 | 1724 |
| | 112.5% | 2338 | 2125 | 1913 | 2225 | 2013 |
| | 155.0% | 2805 | 2550 | 2295 | 2650 | 2395 |
Super Commanders
Edit
| | Bonus | Frigate | Cruiser | Battleship | Cruiser Flagship | Battleship Flagship |
| --- | --- | --- | --- | --- | --- | --- |
| | 2.3% | 1126 | 1023 | 921 | 1123 | 1021 |
| | 7.1% | 1178 | 1071 | 964 | 1171 | 1064 |
| | 14.6% | 1260 | 1146 | 1031 | 1246 | 1131 |
| | 25.2% | 1377 | 1252 | 1127 | 1352 | 1227 |
| | 39.8% | 1538 | 1398 | 1258 | 1498 | 1358 |
| | 59.3% | 1752 | 1593 | 1433 | 1693 | 1533 |
| | 85.2% | 2037 | 1852 | 1667 | 1952 | 1767 |
| | 119.7% | 2416 | 2197 | 1977 | 2297 | 2077 |
| | 165.6% | 2922 | 2656 | 2391 | 2756 | 2491 |
| | Bonus | Frigate | Cruiser | Battleship | Cruiser Flagship | Battleship Flagship |
| --- | --- | --- | --- | --- | --- | --- |
| | 2.4% | 1127 | 1024 | 922 | 1124 | 1022 |
| | 7.4% | 1182 | 1074 | 967 | 1174 | 1067 |
| | 15.3% | 1268 | 1153 | 1038 | 1253 | 1138 |
| | 26.5% | 1392 | 1265 | 1139 | 1365 | 1239 |
| | 42.0% | 1562 | 1420 | 1278 | 1520 | 1378 |
| | 62.8% | 1790 | 1628 | 1465 | 1728 | 1565 |
| | 90.5% | 2096 | 1905 | 1715 | 2005 | 1815 |
| | 127.7% | 2505 | 2277 | 2049 | 2377 | 2149 |
| | 176.0% | 3000 | 2777 | 2499 | 2877 | 2599 |
| | Bonus | Frigate | Cruiser | Battleship | Cruiser Flagship | Battleship Flagship |
| --- | --- | --- | --- | --- | --- | --- |
| | 2.4% | 1127 | 1024 | 922 | 1124 | 1022 |
| | 7.4% | 1182 | 1074 | 967 | 1174 | 1067 |
| | 15.3% | 1268 | 1153 | 1038 | 1253 | 1138 |
| | 26.5% | 1392 | 1265 | 1139 | 1365 | 1239 |
| | 42.0% | 1562 | 1420 | 1278 | 1520 | 1378 |
| | 62.8% | 1790 | 1628 | 1465 | 1728 | 1565 |
| | 90.5% | 2096 | 1905 | 1715 | 2005 | 1815 |
| | 127.7% | 2505 | 2277 | 2049 | 2377 | 2149 |
| | 176.0% | 3000 | 2777 | 2499 | 2877 | 2599 |