Hand of Lelantos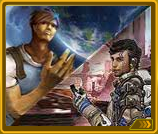 Skills:

Unseen Strike
| | |
| --- | --- |
| | 600 |
This commander is a combination of Titan and Jakar.
How to Obtain
Edit
This commander can be obtained through special events, and by creation using a scroll found in the constellation instance Taurus 2 , or from scroll chest VI (Which drops from any Taurus instance).
Each time Hand of Lelantos levels up, the total increase of the four main attributes is increased by an additional 5 points. If Lelantos Accuracy rating is higher than an enemy commander's Dodge rating, the enemy fleet's Defense and Agility stats will be ignored during each attack. Affected by the Accuracy attribute.
Commander's Chance to Trigger Ability
Edit
Note: The initial probability is the opportunity to unleash their capacity when the total number of statistics related to 0. As the increase related statistics, the chance of shooting ability will greatly increase commander. Click the link to see a list and explanation of all the commander's Chance to Trigger Abilities. The table shows the possibility based on 500, 1000, 1200, 1500 and 1800 related statistics.
Name
Type
Initial Chance
Accuracy
500
1000
1200
1500
1800

Hand of Lelantos
Divine
-
-
-
-
-
-
Ad blocker interference detected!
Wikia is a free-to-use site that makes money from advertising. We have a modified experience for viewers using ad blockers

Wikia is not accessible if you've made further modifications. Remove the custom ad blocker rule(s) and the page will load as expected.