CAUTION!

In Humaroid battles you do lose ships!, unlike some other Constellations etc.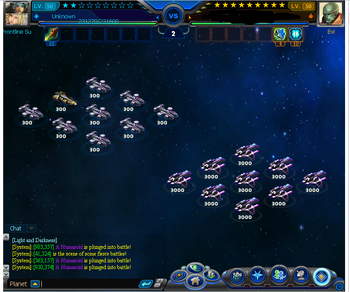 Totals: 6 Fleets, 300 Stacks = 16200 Ships
Rewards: 30 CG, 10 Huma
Fleets: 2x The Guardians-1 - Yellow Flagship
CC: 2* Frontline Surge
Ships & Weapons: Mall 4 Sparrows / Blaze Auto Cannon (Ballistic Weapons)
Fleets: 2x The Guardians-2 - Yellow Flagship
CC: 2* Frontline Surge
Ships & Weapons: Mall 4 Howlers / Magneto Bomb (Directional Weapons)
Fleets: 1x The Guardians-3 - Blue Flagship
CC: 2* Frontline Surge
Ships & Weapons: Mall 4 Spinners / Poacher Firebomb (Missile Weapons)
Fleets: 1x The Guardians-4 - Blue Flagship
CC: 4* Fatal Furies
Ships & Weapons: Mall 4 Howlers / Nomad Streamliner / Dragonturtle (Ship-Based Weapons)
Tips on How to Beat:
Edit
CAUTION!

The following information is not verified, it may be partially or completely incorrect.
Information

General Advice for all the Humaroid planets is, do not attempt them until you can clear Constellations of an equivalent level.  Until you can clear any Constellation, most players advise you do not attempt them. In Constellations you do not lose ships, so it's best to perfect your art there first.
1 fleet 27k Nihels (max agillity, ballistic) and any divine with 700+ dodge can solo this.
2 fleets of Hamdar 2*9,9k, stacks of 1,1 k (8 eos/2 ea/ max agility) and cc's with a dodge of 300+ will get no damage.
5+ fleets of legendary/divines with high speed (enough to always attack first) with SBW (powerful enough to take out most of enemy fleets)
this can also be done with 24k independance III and conq x in the middle while using a dfa with 300+ dodge
I done this with a lvl 35 5* kismet beams.350 dodge and a blue negator IV.I took no damage from FF procs.I used Hamdars with ame,tce,agi,ecm,3ea, 9 eos, 4 Bloody mary (honor ballistic) and auto target system.I used 3k stacks and GforceX in the middle.Nothing could touch me
Best use a DFA that outstats enemys FF, so he cant proc and hurt your ships. 1* Dfa with about 200-300 stats added by gems can do this. With high dodge (~500) a 35Negator chip and a 7.2 Daedalus chip i did it with 600 stack Cybra 3 (5.4k total fleet) - (7 Eos, 3 EA, Daedalus System and 16 agi, ballistic to shoot often enough).  Dont use too many weapons or use high stack, or reflects can hurt. Really no need for all that fancy stuff to do Humas lvl 1. Edit: Higher Stack Size recommended, stats needed to outstat Huma 2 is <=895, should apply here too.
Humaroid Levels
Edit
Ad blocker interference detected!
Wikia is a free-to-use site that makes money from advertising. We have a modified experience for viewers using ad blockers

Wikia is not accessible if you've made further modifications. Remove the custom ad blocker rule(s) and the page will load as expected.