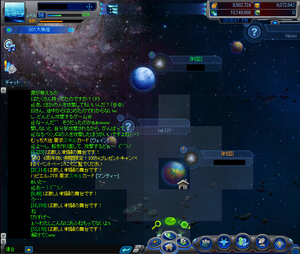 It has only 1 server. Cannot edit top servers list, wrote it down here.
http://apps.facebook.com/galaxyonline_jp/
Major corps
1.国士無双(Kokushimusou)
The corp is a very unipue .They build a big colony in Zone-70 with Defense-only policy.Their colony is like a huge fortress, actually it has been to prevent the attack of the enemy many times.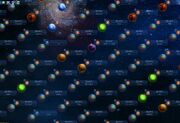 2.戦国(Sengoku)
The corp is the most oldest in japanese-server. Kokushimusou and BERSERK are derived from Sengoku. They are almost like a nomad--they use a galaxy transfer and plunder resources to attack everywhere aroand their.
3.BERSERK
Crazy,HENTAI...
4.TIRANIDA
The corp is a international corp.
5.Formosa
The corp is Chinese corp
6.銀河帝国(Galactic Empire)
The corp is for a beginner.It is derived from BERSERK.
Ad blocker interference detected!
Wikia is a free-to-use site that makes money from advertising. We have a modified experience for viewers using ad blockers

Wikia is not accessible if you've made further modifications. Remove the custom ad blocker rule(s) and the page will load as expected.