Jerome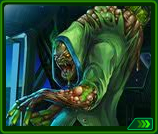 Skills:

Curse
| | |
| --- | --- |
| | 150 |
Known as the "Witchdoctor," Jerome is a chemical and biological warfare researcher who uses unconventional weaponary in battle. He modifies his fleet with these devices, which seem to allow him to mysteriously "curse" his foes, dealing additional damage in retaliation.
Curse

If attacked (Defending), the enemy will receive 10% more damage the next round (stackable). Affected by the Accuracy attribute.
Commander's Chance to Trigger Ability
Edit
Note: The initial chance is the chance to trigger their ability when the total number of the related stats is 0. As the related stats increase, the chance to trigger commander ability will increase too. Click on the link to see a list and explanation of all Commander's Chance to Trigger Abilities.
The table shows the chance based on 500, 1000, 1500 and 1800 related stats.
Name
Type
Initial Chance
Accuracy
500
1000
1200
1500
1800
Jerome
Skill
15%
29%
69%
91.07%
132%
180.03%
Divine Commander
Edit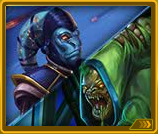 This Commander can be combined with other commanders to form a
Divine Commander
. The Combined Commander becomes a Divine Commander with special abilities. The following is a list of Divine Commanders that can be created with this Commander: