Kelly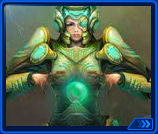 Skills:

Resourceful
| | |
| --- | --- |
| | 150 |
Kelly used to be a scientist and a fervent advocate of galactic peace. She still believes strongly in peace and continues to work toward achieving it, despite the fragile nature wartime negotiations. Her influence has earned her respect from those who share her beliefs. As such, she has amassed a number of loyal supporters. However, she has declared war on the pirates, who she believes are the root of galactic conflict. Her fleet's recovery abilities are renowned.
Resourceful

Restores 15% of maximum Structures per round. Affected by the Speed attribute.
Commander's Chance to Trigger Ability
Edit
Note: The initial chance is the chance to trigger their ability when the total number of the related stats is 0. As the related stats increase, the chance to trigger commander ability will increase too. Click on the link to see a list and explanation of all Commander's Chance to Trigger Abilities.
The table shows the chance based on 500, 1000, 1500 and 1800 related stats.
Name
Type
Initial Chance
Speed
500
1000
1200
1500
1800
Kelly
Skill
25%
38%
75%
95.87%
133%
178.12%