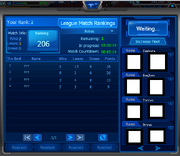 Galaxy Online II League Match intro:
Unfold the League Match interface from the Dashboard or Space Station.
Rules
1. Each player is able to take part in a maximum of 3 matches per day.
2. Each side can send up to 4 fleets to each match.
3. There are 2 specific periods of time each day where different ranks will be able to compete against each other.
4. Participants will be automatically matched every 3 minutes. Only players of the same rank are allowed to compete against each other.
5. Players are not able to see who they could be matched up against, but they can see Wins versus Losses and Draws.

Tip: When entering the match field, the orientation and location of fleets will be the same as they are in a player's Space Base.
Cost
1. Neither He3 nor ships will be consumed.
2. Required fees for a match = Player's rank * 30,000 Gold .
Points
1. A victory awards 3 points, while a draw or a loss awards 1 point.
2. Player's ranks are primarily determined by the number of points they earn each week.
3. Everybody's starts with an initial rank of 1. The goal is to achieve the highest rank, 10.

Tip: Points are the primary factor in determining a players rank and total ranking. In turn, a players rank is what determines how many honor points are awarded.

Tip: If you do not want to increase your League Rank, you can send in a decoy fleet to lower your ration of wins to losses, thus keeping you in your current rank, or lowering it.

FYI: A Draw occurs when the match goes for 30 Rounds without a victor.
Rewards
1. If all 3 daily matches are completed, honor points will be awarded.
2. The higher a player's rank, the more honor points will be awarded.
3. Honor points can be used to buy bound honor items from the Item Mall.

IMPORTANT: During a match, it's impossible to enter an instance . Likewise, when exploring an instance, it's impossible to take part in a league match.
Daily Honor
After all three daily matches are completed, daily Honor Points are awarded. It does not matter if they are wins, losses or draws.
Rank
Daily Honor
Gold Cost
Per Honor
1
 100
 900
2
 125
 1440
3
 150
 1800
4
 175
 2057.1
5
 200
 2250
6
 225
 2400
7
 250
 2520
8
 275
 2618.2
9
 300
 2700
10
 400
 2250
Match Schedule
Note: times are based on local server times which vary depending on which version you are playing. Thus times Daylight savings time is used as of July 27 2011

"International" - EST (GMT - 5)
German - CET (GMT + 1) (Daylight savings activated as of July 27)(up to last Sunday of October) (also applies to French Server)
Philippine - PHT (GMT + 8) (also applies for Malaysian server)
Indonesian - (GMT +7-Western part which includes the capital Jakarta)

If played at "proper" timezone
| Rank | | Period 1 | Period 2 |
| --- | --- | --- | --- |
| 1 | | 7:30am-12:30pm | 6:30pm-11:30pm |
| 2 | | 8:30am-12:30pm | 7:30pm-11:30pm |
| 3 | | 9:30am-12:30pm | 8:30pm-11:30pm |
| 4 | | 10:20am-12:30pm | 9:20pm-11:30pm |
| 5 | | 10:30am-12:30pm | 9:30pm-11:30pm |
| 6 | | 10:30am-12:30pm | 9:30pm-11:30pm |
| 7 | | 10:30am-12:30pm | 9:30pm-11:30pm |
| 8 | | 10:30am-12:30pm | 9:30pm-11:30pm |
| 9 | | 10:30am-12:30pm | 9:30pm-11:30pm |
| 10 | | 10:30am-12:30pm | 9:30pm-11:30pm |

EST - CET difference (+6 hours) CET - PHT difference (+7 hours)
PHT - EST difference (-13 hours)

GO2 German Version (Philippine Standard Time)
| Rank | | Period 1 | Period 2 |
| --- | --- | --- | --- |
| 1 | | 14:30-19:30 | 01:30-06:30 |
| 2 | | 15:30-19:30 | 02:30-06:30 |
| 3 | | 16:30-19:30 | 03:30-06:30 |
| 4 | | 17:20-19:30 | 04:20-06:30 |
| 5 | | 17:40-19:30 | 04:40-06:30 |
| 6 | | 18:00-19:30 | 05:00-06:30 |
| 7 | | 18:20-19:30 | 05:20-06:30 |
| 8 | | 18:30-19:30 | 05:30-06:30 |
| 9 | | 18:30-19:30 | 05:30-06:30 |
| 10 | | 18:30-19:30 | 05:30-06:30 |
Weekly Rank Changes
| Rank | | Total Players | Promoted | Downgraded | Unchanged |
| --- | --- | --- | --- | --- | --- |
| 10 | | 10 | | 5 | 5 |
| 9 | | 30 | 5 | 20 | 5 |
| 8 | | 70 | 20 | 30 | 20 |
| 7 | | 100 | 30 | 40 | 30 |
| 6 | | 140 | 40 | 60 | 40 |
| 5 | | 200 | 60 | 80 | 60 |
| 4 | | 260 | 80 | 100 | 80 |
| 3 | | 400 | 100 | 200 | 100 |
| 2 | | 800 | 200 | 400 | 200 |
| 1 | | | 400 | | |