Libra Constellation
Edit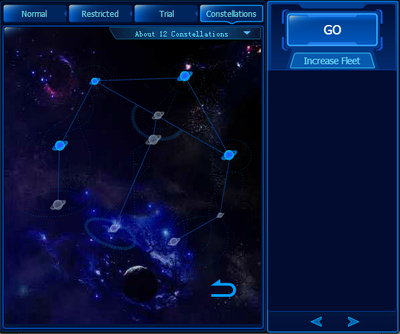 The Libra constellation is the seventh of the
twelve constellations
released 19 October 2012.
The Constellation features twelve scenarios of extreme difficulty and players should use the best ships and weapons available to them. Like Trial Instances, all ships will be returned to the player, minus the he3 that was consumed.
These instances feature Liberty Wings, Chimera Fleets and Conquistador-X flagships with Virgo Weaponry commanded by 9-star Titan Commanders. The faint of heart shall attempt not these instances.
The following link is an interactive view of all of the Constellation Instances, ships and information. A very useful tool.
Instance Rewards
Edit
Instance statistics
Edit
Other Constellations
Edit

Choose an instance:
Ad blocker interference detected!
Wikia is a free-to-use site that makes money from advertising. We have a modified experience for viewers using ad blockers

Wikia is not accessible if you've made further modifications. Remove the custom ad blocker rule(s) and the page will load as expected.