Maletiz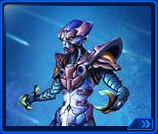 Skills:

Revenge
| | |
| --- | --- |
| | 600 |
Maletiz began his life in a den of ferocious wolves and emerged one of the bravest warriors of the wolf clan. He relies on his killer instincts to survive the toughest battles, using a combination of cunning and ferociousness to destroy his enemies. Maletiz often starts by baiting his enemies. Once they attack, he pounces on them, killing them in one devastating strike. Ability: has a chance to reflect damage taken to the attacker.
Revenge

Has a chance to absorb all damage and reflect it back to the attacker. Affected by the Dodge and Electron attributes.
Commander's Chance to Trigger Ability
Edit
Note: The initial chance is the chance to trigger their ability when the total number of the related stats is 0. As the related stats increase, the chance to trigger commander ability will increase too. Click on the link to see a list and explanation of all Commander's Chance to Trigger Abilities.
The table shows the chance based on 500, 1000, 1500 and 1800 related stats.
Name
Type
Initial Chance
Dodge and Electron Stats
500
1000
1200
1500
1800
Maletiz
Legendary
15%
19%
28%
33.99%
44%
56.03%
Divine Commander
Edit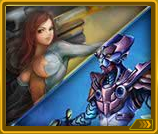 This Commander can be combined with other commanders to form a
Divine Commander
. The Combined Commander becomes a Divine Commander with special abilities. The following is a list of Divine Commanders that can be created with this Commander: