Mantie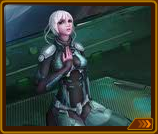 Skills:

Command Strike
| | |
| --- | --- |
| | 150 |
Mantie's childhood dream of flying among the stars was fulfilled when she signed up for the galactic military. She seems brash and reckless, but overcomes her weaknesses by tenaciously targeting an opposing commander, even if she must risk her own life.
Command Strike

Increases the chances of killing the enemy commander at the cost of a 3% increase to the attacker's own fatality rate.
Commander's Chance to Trigger Ability
Edit
Note: The initial chance is the chance to trigger their ability when the total number of the related stats is 0. As the related stats increase, the chance to trigger commander ability will increase too. Click on the link to see a list and explanation of all Commander's Chance to Trigger Abilities.
The table shows the chance based on 500, 1000, 1500 and 1800 related stats.
Name
Type
Initial Chance
Dodge
500
1000
1200
1500
1800
Mantie
Skill
10%
23%
60%
80.87%
118%
163.12%