Marcus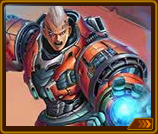 Skills:

Breakthrough
| | |
| --- | --- |
| | 600 |
Soon after ranking at the top of his class in the Galactic Military College, Marcus was tasked with defending a fortress from the invasion of well armed pirates. After working days and nights to prepare for the invasion, Marcus fought side by side with the grunts defending the fortress. Taking advantage of the surrounding geology, he led a battalion that outflanked the invading troops and ended the invasion. Due to his outstanding service and leadership, Marcus became the youngest commander to ever be awarded a Gold Hero Badge. Though his defensive skills are impressive, Marcus relishes the rush of an attack. He is often aggressive on the battlefield, and his special ability renders enemy shields, shield modules and stability useless in combat.
Breakthrough
Commander's Chance to Trigger Ability
Edit
Note: The initial chance is the chance to trigger their ability when the total number of the related stats is 0. As the related stats increase, the chance to trigger commander ability will increase too. Click on the link to see a list and explanation of all Commander's Chance to Trigger Abilities.
The table shows the chance based on 500, 1000, 1500 and 1800 related stats.
Name
Type
Initial Chance
Accuracy and Speed Stats
500
1000
1200
1500
1800
Marcus
Legendary
15%
21%
40%
51%
71%
96%
Divine Commander
Edit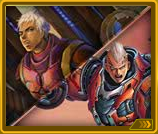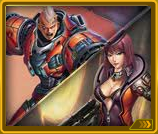 This Commander can be combined with other commanders to form a Divine Commander. The Combined Commander becomes a Divine Commander with special abilities. The following is a list of Divine Commanders that can be created with this Commander:
Related Events
Edit
---