Miller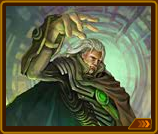 Skills:

Pulverizer
| | |
| --- | --- |
| | 300 |
Miller is one of the last 74 surviving Sarltons - a desert-borne species from a distant galaxy. Despite brutal conditions, the Sarltons managed to survive by harvesting water below the surface of their home planet. Unfortunately, his home was all but destroyed by the insatiably violent hunger of the galactic pirates. Now as his people near extinction, Miller has joined the Alliance with the promise that his people will be given refuge. It should also be known that Miller's real name cannot be pronounced by human vocal cords.
Pulverizer

Miller's fleet deal an extra 300% damage to all Light Armored targets.
Commander's Chance to Trigger Ability
Edit
Note: The initial chance is the chance to trigger their ability when the total number of the related stats is 0. As the related stats increase, the chance to trigger commander ability will increase too. Click on the link to see a list and explanation of all Commanders Chance to Trigger Abilities.
The table shows the chance based on 500, 1000, 1500 and 1800 related stats.
Name
Type
Initial Chance
 ?
500
1000
1200
1500
1800
Miller
Super
-
-
-
-
-
-
Ad blocker interference detected!
Wikia is a free-to-use site that makes money from advertising. We have a modified experience for viewers using ad blockers

Wikia is not accessible if you've made further modifications. Remove the custom ad blocker rule(s) and the page will load as expected.