Motima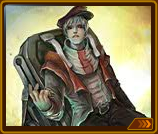 Skills:

Accuracy
| | |
| --- | --- |
| | 150 |
Motima is a scientific genius. He works tirelessly to develop cutting-edge weapons and targeting systems that give him the upper hand in battle. He is always looking for the next major technological breakthrough. In his military career, he has committed himself to the study of weapon accuracy and has made some remarkable discoveries. During battle, he draws upon this research to greatly increase his crew's chance to hit the enemy.
Accuracy

Has a chance to use the highest possible hit chance when attacking the enemy. Affected by the Accuracy attribute.
Commander's Chance to Trigger Ability
Edit
Note: The initial chance is the chance to trigger their ability when the total number of the related stats is 0. As the related stats increase, the chance to trigger commander ability will increase too. Click on the link to see a list and explanation of all Commander's Chance to Trigger Abilities.
The table shows the chance based on 500, 1000, 1500 and 1800 related stats.
Name
Type
Initial Chance
Accuracy
500
1000
1200
1500
1800
Motima
Skill
15%
25%
50%
64.71%
90%
120.26%