Panis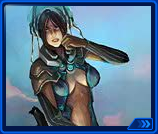 Skills:

Intercept
| | |
| --- | --- |
| | 150 |
Panis joined the Galactic Fleet for glory, loyalty and pride. She specilizes in interception technology, allowing her to counter anti-air attacks effectively. She believes that all pirates are scum that should be eliminated and has contempt for pirates that turn over a new leaf.
Intercept

Increases the chance of air interception. Affected by the Electron attribute.
Commander's Chance to Trigger Ability
Edit
Note: The initial chance is the chance to trigger their ability when the total number of the related stats is 0. As the related stats increase, the chance to trigger commander ability will increase too. Click on the link to see a list and explanation of all Commander's Chance to Trigger Abilities.
The table shows the chance based on 500, 1000, 1500 and 1800 related stats.
Name
Type
Initial Chance
Electron
500
1000
1200
1500
1800
Panis
Skill
10%
24%
64%
86.07%
127%
175.03%
Useful Info; her name is incredibly close to that of certain male genitalia. Use this to your advantage.