Penni
Skills:

Last Stand
| | |
| --- | --- |
| | 300 |
Penni has a sense of curiosity and a thirst for the unknown that has never been quenched. While exploring the galaxy, she has faced untold dangers but has never backed down from a challenge. Her ferocity and bravado have earned her a reputation as a wildcat. She believes in taking her foes down at any cost, sometimes sacrificing her own ship. During battle, she gladly trades hits with her opponents, dishing out up to triple damage at the expense of her own safety.
Last Stand

Has a chance to deal triple damage when attacking, but also inflicts 10% damage to the ship. Affected by the Accuracy attribute.
Commander's Chance to Trigger Ability
Edit
Note: The initial chance is the chance to trigger their ability when the total number of the related stats is 0. As the related stats increase, the chance to trigger commander ability will increase too. Click on the link to see a list and explanation of all Commander's Chance to Trigger Abilities.
The table shows the chance based on 500, 1000, 1500 and 1800 related stats.
Name
Type
Initial Chance
Accuracy
500
1000
1200
1500
1800
Penni
Super
10%
19%
51%
68.50%
101%
138.80%
Divine Commander
Edit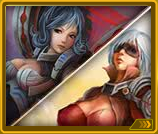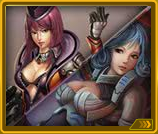 This Commander can be combined with other commanders to form a
Divine Commander
. The Combined Commander becomes a Divine Commander with special abilities. The following is a list of Divine Commanders that can be created with this Commander:
Related Events
Edit