Restricted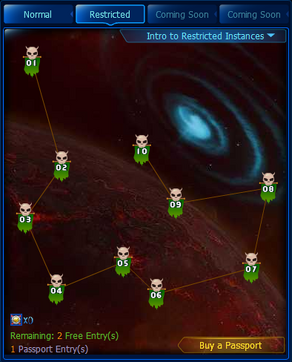 Restricted Instances can be done daily. Restricted Instances can only be done 3 times a day for free and one extra time daily if a
Passport
is used.

Each time a player does a Restricted Instance, the player will win experience points, badge points, and a Constellation Pass

which is used to gain access to Constellations Instances. Completing a Restricted Instance also will get you a Holiday Chest

which contains random items such as He3 packs, Gold Packs, Boosts, Revival Cards, Passports, Healing Cards, etc.
Information

On February 13 2014 number of free runs has been increased to 3 times per day.
The following link is an interactive view of all of the instances, ships and information. A very useful tool.
Instance Rewards
| Level | Name | Max Fleets | EXP | Rewards | Special Rewards | Challenging Chest |
| --- | --- | --- | --- | --- | --- | --- |
| 1 | Calvin's Riches | 10 | 10,000 |  10 | | |
| 2 | The Prodigal Prince Returns | 12 | 20,000 |  13 | | |
| 3 | The Danger Zone | 15 | 30,000 |  16 | | |
| 4 | Rofilla Ruins Resurrected | 18 | 40,000 |  20 | | |
| 5 | Helping Helukar | 20 | 50,000 |  23 | | |
| 6 | An Intriguing Opportunity | 20 | 60,000 |  26 | | |
| 7 | The Thorn | 20 | 70,000 |  30 | | |
| 8 | The Final Attack | 21 | 80,000 |  33 | | |
| 9 | The Decision | 25 | 90,000 |  36 | | |
| 10 | Judgement Day | 25 | 100,000 |  40 | | |
Other Instances
Choose an instance: