S09 Battle at AllSpark
[[

|250px]]
The battle environment.

Location

AllSpark (Dark Moon)

Date

10 November-14 November 2011 (verification needed)

Belligerents

Strength

9-11=31,144,189; S10=35,163,520

Result

Strategic 9-11 victory

Casualties and losses

9-11=13,416,644; S10=ALL

Classification

Universal War

The Battle at Allspark commenced shortly after the Server Merge. In the beginning, it has been back and forth. Reinforcements arrived as soon as one side began to lose. The Orion Alliance (7 corps from the former S10 Orion) held their own against what seems to be two whole servers, which have formed a coalition calling themselves 9/11. Propaganda is spewed from both sides, with claims such as "5 million POG deployed in 10 minutes" and "6.5 million Quick Assault deployed in three minutes" flying between the two opposing sides. The space base of the planet in question was divided down the center line, with the OA holding the left side and 9/11 holding the other.
The Battle at AllSpark ends with the 9/11 Alliance as victors, sending 31.1 mil and taking 13.4 mil losses. The 7 corps force from S10 loses 35.1 mil. The battle lasted 4 days.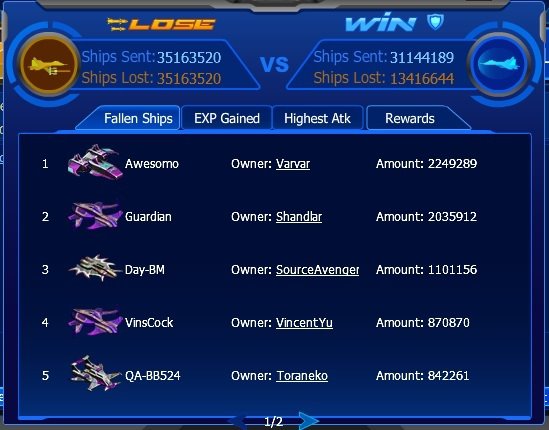 Corps involved in the battle
Edit
Genesis
Meltdown
Severed Nation
Sexytary01
PH_Elite
Damocles_Sword
Dark_Moon
Templer
Checkmate
WarGodsII
Fantasy1
LionPride
Seven_Nation
Revolution
Real
Enigma
Devil
Dragons1
Duty
DarkStorm
DarkStorm3
DANGDUT_SEXY
Enigma_II
Ludi
Ad blocker interference detected!
Wikia is a free-to-use site that makes money from advertising. We have a modified experience for viewers using ad blockers

Wikia is not accessible if you've made further modifications. Remove the custom ad blocker rule(s) and the page will load as expected.