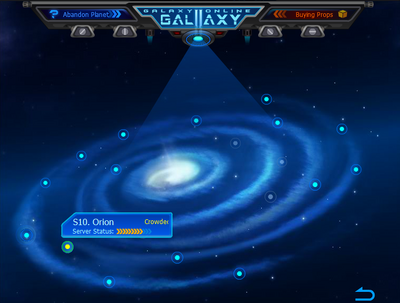 S10. Orion
Edit
The S10. Orion Server is home to many mid level Corps. It is a Crowded Server, but it is not full. US Servers S09. Hydra, S10. Orion, and S11. Aries were merged on November, 10, 2011 and was renamed as S09. Hydra.

At the time of the Merge, the top corps was Damocles Sword at Level 8.
The server was the only server unannounced on the GO2 official page. It is presumed that the server was released between April 15-April 23, 2011. The first taken RP was that of WarGods by the beginning of May. The top corps of the time included WarGods, LEGION, and Cynosure.
Rise of Damocles Sword and LionPride
Edit
The heating activity of the two corps began by June. This has resulted on the Battle of Fayvitt on 19 June. They also made alliances with some corps. This would be the first major battle in the server history. This is also the time when Space Pirates was dissolved, sending most of their members in S10: War Gods II. Another battle would spawn almost a month later.
The server has been home to at least 2 massive battles. Those were battles of the top corps Damocles Sword and Lionpride and their respective allies. The July 13 Battle was the server's latest known massive battle. The Battle of Fayvitt was the first massive battle in the server's history, and the first major battle since the Harabas Wars during June 5-15.
Uncertainty
Edit
The future of the server was uncertain, being in tranquil for months. It was one of the most peaceful servers of the Galaxy, having its last known war on 7/13 up until the Server merge.
Server Merge
Edit
On November 10,2011, US Servers S09. Hydra, S10. Orion, and S11. Aries were merged and S10 was renamed as S09. Hydra.
Corp List in S10
Edit
The Following Table is a list of the top 100 Corps in the S10 Server. For more information on a particular Corp, Click on the Corp Name. Since this table is a start, if you are a member of one of these Corps, please create your link to your Corp or encourage your Corp President to create their page from this list. Obviously this list doesn't have 100 Corps in it yet. Please help out by filling out the info if you are in this server. Rankings are not found on the following table since they can change daily.
Ad blocker interference detected!
Wikia is a free-to-use site that makes money from advertising. We have a modified experience for viewers using ad blockers

Wikia is not accessible if you've made further modifications. Remove the custom ad blocker rule(s) and the page will load as expected.