Battle of Shui

(Part of the S18 Merger Wars)




Location

Shui (ComparTheMeerkat)

Date

18 February 2012-19 February 2012 (PH time)

Result

Tactical offensive victory
The Battle of Shui was a massive war on the newly merged S18. Scorpio. There is probably a connection between the attack on Xilspher and this battle.
Raw Intel:Edit
[xxxxxx]:I just know LtPlex initiated, Ardanien and Darkath came to
[xxxxxx]:defend...
[xxxxxx]:firestrand landed, then all hell broke loose XD
Corps involved:Edit
Defending:
ComparTheMeerkat
Firestorm
Teletubbies
Red_vs_Blue
(please add any missed.)
Attacking:
Sidhe
Angelus
AngelsWithHorns
Jesters
TheBlackThorn
Shadow_Guardians
No_Mercy
(please add any missed.)
Significant players:Edit
Attacking:
Lt.Plex
Firestrand
Pizzaman
Satchmo
Luke
PyreFox
Kildar
Lord-Chaos
SkyMarshall
Heinrich
Helio
MrBlonde
Nicolos
(please add any missed.)
Defending:Edit
Elegua51: Did an amazing last stand.
Ardanien: First defender to arrive, duo'd defense with Darkath03 for 7 rounds, causing it to become bigger.
Darkath03: Defended at beginning of battle with Ardanien, which led to it becoming bigger.
h0d
Intratex
Farmershawn
Ikonkeru
MiaWolf
Rucky
(please add any missed.)
Attackers from the Revenant alliance won this battle. 9,159,997 attackers were sent, 4,261,249 ships defended.
Losses of Attackers : 2,461,930 of 9,159,997 sent.
Losses of Defenders : 4,261,249 of 4,261,249 sent.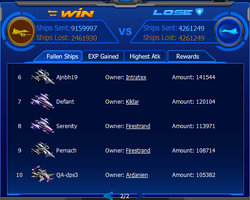 Ad blocker interference detected!
Wikia is a free-to-use site that makes money from advertising. We have a modified experience for viewers using ad blockers

Wikia is not accessible if you've made further modifications. Remove the custom ad blocker rule(s) and the page will load as expected.