Battle of Morkleb
[[

|250px]]


Location

Morkleb (Synergy)

Date

21 January 2012 (EST)-22 January 2012
The Battle of Morkleb wa a large-scale war occurring on the 2-month old S22. Crater featuring the alliances of Psychosis and Excessive as opponents. It is considered the third war to occur in 2012 and also the second to feature Black Hole ships.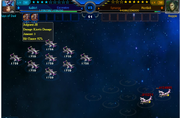 Ad blocker interference detected!
Wikia is a free-to-use site that makes money from advertising. We have a modified experience for viewers using ad blockers

Wikia is not accessible if you've made further modifications. Remove the custom ad blocker rule(s) and the page will load as expected.