Shaba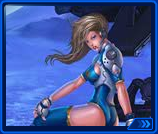 Skills:

Allied Evasion
| | |
| --- | --- |
| | 150 |
Shaba is a talented commander with no sense of fear and a strong sense of duty. She lied about her age and joined the military when she was just 16. She has overcome many dangerous obstacles since. Her astounding leadership qualities and intuition allow her to predict the intentions of her prey with but a look. She has honed quick reflexes and an uncanny ability to dodge attacks that she has trained her crew to emulate.
Allied Evasion

Increases the dodge chance of friendly forces within 4 spaces by 5 (stackable). Affected by the Dodge attribute.
Commander's Chance to Trigger Ability
Edit
Note: The initial chance is the chance to trigger their ability when the total number of the related stats is 0. As the related stats increase, the chance to trigger commander ability will increase too. Click on the link to see a list and explanation of all Commander's Chance to Trigger Abilities.
The table shows the chance based on 500, 1000, 1500 and 1800 related stats.
Name
Type
Initial Chance
Dodge
500
1000
1200
1500
1800
Shaba
Skill
25%
38%
75%
95.87%
133%
178.12%
Divine Commander
Edit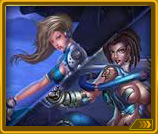 This Commander can be combined with other commanders to form a Divine Commander. The Combined Commander becomes a Divine Commander with special abilities. The following is a list of Divine Commanders that can be created with this Commander: