Singhri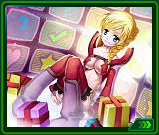 Skills:

Copycat
| | |
| --- | --- |
| | 600 |
She is not a real commander, because she comes and goes as she pleases. No one is quite sure where she goes or where she came from, but she seems to enjoy showing up during festivals and holidays. For this reason, she has come to be known as the Festival Envoy. Although she has no formal training in either ship combat or tactics, she has a sharp eye and is a quick study. Her favorite move is to watch for a particularly effective enemy attack or defensive move and then turn it against the commander using it. If one day you see her using your own skills or tactics against you, don't be surprised. After all, imitation is the sincerest form of flattery.
How to Obtain
Edit
This commander is only available through events
Copycat

Copies an enemy Commander's skills when attacking or defending. Skill effects copied will not be retained after combat has concluded.
Commander's Chance to Trigger Ability
Edit
Note: The initial chance is the chance to trigger their ability when the total number of the related stats is X. As the related stats increase, the chance to trigger commander ability will increase too. Click on the link to see a list and explanation of all Commander's Chance to Trigger Abilities.
The table shows the chance based on 500, 1000, 1500 and 1800 related stats.
Name
Type
Initial Chance
Related Stats
500
1000
1200
1500
1800
Singhri
Legendary
-
-
-
-
-
-
Divine Commander
Edit

This Commander can be combined with other commanders to form a
Divine Commander
. The Combined Commander becomes a Divine Commander with special abilities. The following is a list of Divine Commanders that can be created with this Commander:
Related Events
Edit
Ad blocker interference detected!
Wikia is a free-to-use site that makes money from advertising. We have a modified experience for viewers using ad blockers

Wikia is not accessible if you've made further modifications. Remove the custom ad blocker rule(s) and the page will load as expected.