Sylva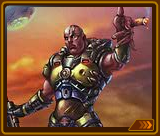 Skills:

Smash
| | |
| --- | --- |
| | 300 |
One of the most feared and revered commanders in the galaxy, Sylva is known for his heartlessness and decisiveness in battle. His term as a regional governor kick-started his military career and gave him insights into handling structures and fortifications. He applies this knowledge battle, allowing him to gain the upper hand against any fortress.
Smash

Has a chance to deal up to 2.5 times the damage to a fortress. (Planetary Defensive Structures)
Commander's Chance to Trigger Ability
Edit
Note: The initial chance is the chance to trigger their ability when the total number of the related stats is 0. As the related stats increase, the chance to trigger commander ability will increase too. Click on the link to see a list and explanation of all Commander's Chance to Trigger Abilities.
The table shows the chance based on 500, 1000, 1500 and 1800 related stats.
Name
Type
Initial Chance
Related Stats
500
1000
1200
1500
1800
Sylva
Super
100%
116%
162%
187.66%
235%
291.72%
Ad blocker interference detected!
Wikia is a free-to-use site that makes money from advertising. We have a modified experience for viewers using ad blockers

Wikia is not accessible if you've made further modifications. Remove the custom ad blocker rule(s) and the page will load as expected.