Venus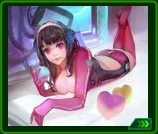 Skills:

Gift of Romance
| | |
| --- | --- |
| | 600 |
Venus is a Legendary Commander released during the Valentine's Day during February 2013. Formerly an event-only commander, she can be found in the Champions' Mall for 2498 Championship Points.
Biography
Edit
"Venus is an Iliadan, a race that claims to have originated from another galaxy. Like her fellow Iliadan, Titan, Venus possesses amazing god-like abilities. She is the embodiment of physical perfection. Her beauty is so great that few can resist swooning at the mere sight of her. Fortunately for the galaxy, Venus pledged her allegiance to the Federation after Panis first discovered her prodigious powers and charm at age 15. Venus' latent psionic potential has since been fully realized under Panis' careful guidance. Venus can control energy shield modules with but a thought, empowering them to become impenetrable to all enemy attacks."
Gift of Romance

Increases damage negation of all shield modules in the fleet. Affected by the Dodge and Speed Attributes. 
Commander's Chance to Trigger Ability
Edit
Note: The initial chance is the chance to trigger their ability when the total number of the related stats is X. As the related stats increase, the chance to trigger commander ability will increase too. Click on the link to see a list and explanation of all Commander's Chance to Trigger Abilities.
Combined Dodge and Speed Attributes

Skill
Initial
300
500
700
1000
1200
1500
1800
Damage Negation
10%
20%
43%
81%
171%
255%
420%
633%
(This boost will grow constantly based on the value of her combines Dodge and Speed attributes.)
The table shows the chance based on 500, 1000, 1500 and 1800 related stats.
Name
Type
Initial Chance
Dodge and Speed Stats
500
1000
1200
1500
1800

Venus
Legendary
10%
43%
171%
255%
420%
633%
Divine Commander
Edit
There is no divine commander yet associated with this card.
Related Events
Edit
Ad blocker interference detected!
Wikia is a free-to-use site that makes money from advertising. We have a modified experience for viewers using ad blockers

Wikia is not accessible if you've made further modifications. Remove the custom ad blocker rule(s) and the page will load as expected.