Virgo.V01
Edit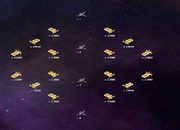 This is the first of fourteen potential instances in the Virgo Constellation. These scenarios are extremely difficult and players should be using the best ships, divine commanders and weapons that they have. Like Scenario Instances, no ships will be lost in these battles, only He3 and only a limited number of fleets. To start off these ships are Black Hole ships with Liberty Wings and Nihelbet tanks outfitted with "trial weapons" (weapons from Trial 50.) commanded by 9-star Divine Commanders and with Conquistador-X Humaroid Flagships. Virgo.V01 is filled with 368,000 fleets commanded by Pernicious Princes, Carbuncle Cohort, and Enduring Chorus. It also features three of the four types of weaponry (Ballistics, Directional and Missile Weaponry). So be prepared to battle all three types.
The following link is an interactive view of all of the Constellation Instances, ships and information. A very useful tool.
(Virgo constellations is not included yet unfortunately)
Ship Configuration
Edit
Commander
Star
Ship Type
Fleets
Fleet Size
Stack Size
Movement
Target

'Weaponry'(III, II, & I)

9
8
23,000
3000
?

Min Range


Closest

3 x 2500
Tanks
5 x 2500
10
9
4
23,000
3000
?

Min Range


Closest

3 x 2500
Tanks
5 x 2500
12
9
4
23,000
3000
?

Max Range


Max Attack

3 x 2500
Tanks
5 x 2500
13
TOTAL # of Ships
368,000
Possible Rewards
Edit
| Level | Name | Max Fleets | Checkpoints | EXP | Possible Rewards |
| --- | --- | --- | --- | --- | --- |
| V01 | Virgo.V01 | 4 | 1 | 100,000 | |
Tips on How to Beat
Edit
Option 1 (Low Commander Cards)
Edit
LW Tank Design
http://krtools.info/des/?d=211:239:10:206:1:212:1:218:1:240:1:265:1:179:4:182:1:203:12:230:10
SB-Black Hole Attack Design
http://krtools.info/des/?d=128:182:1:239:12:215:1:212:1:209:1:206:1:235:1:240:1:265:1:203:9:261:9
1 Tank Fleets of LW Tanks with GForce Dreadnaught-X center. (Min Range/Max Durability) (Set in Position #3)
3 Attack Fleets of SB-BH Design with LW Tanks in Front with Conq-X Center (Max Range/Closest Target) (The key here is movement and power (11 Movement min)
For CCs, I use a high star CC. (7-star Lawrence) with decent Dodge. I found a 7-Star Skill Commander does better than a 3-Star Divine Commander. For the other 3 CC's you need high speed CC's to move away from the center as quickly as possible. I use 1 to 3 star Divines with Speed over 200 and high Accuracy.  (I haven't tried this with 6 to 7-star Skill Commanders, but I would think it would work as well.)
Enjoy!
Option 2 (High Dodge/Denfensive Tactics)
Edit
2 tank comms - about 900 dodge each, LW tanks, with Dread-X center
Here's my design for LW tank
http://krtools.info/des/?d=211:224:8:203:15:200:3:179:2:218:1:212:1:206:1:182:1
May be a little defensive overkill, but I take no damage from PP missile fleets
2 attack comms with Blackhole SB and Conq-X center
Other Instance Links
Edit
Instances
| | |
| --- | --- |
| Previous Instance: | Next Instance: |
| None | Virgo.V02 |
Constellations Instances
Capricorn Constellation

Capricorn.C01  · Capricorn.C02  · Capricorn.C03  · Capricorn.C04

Aquarius Constellation
Pisces Constellation
Leo Constellation
Virgo Constellation
Sagitarius Constellation

Sagitarius.S01  · Sagitarius.S02  · Sagitarius.S03  · Sagitarius.S04

Libra Constellation
Taurus Constellation
Ad blocker interference detected!
Wikia is a free-to-use site that makes money from advertising. We have a modified experience for viewers using ad blockers

Wikia is not accessible if you've made further modifications. Remove the custom ad blocker rule(s) and the page will load as expected.