Wildfire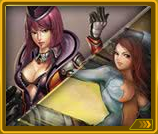 Skills:

Trigger Happy
| | |
| --- | --- |
| | 600 |
The Wildfire commander is a combination of Sandora and Hellen.
How to Obtain
This Scroll is released in Pisces.P04 in the Constellations. This card can be created with a Wildfire scroll.

Skill
Trigger Happy

Chance to deal 30% Scattering damage to enemy ships and instantly reload weapons.
Affected by Accuracy and Electron attributes.
Commander's Chance to Trigger Ability
Note: The initial chance is the chance to trigger their ability when the total number of the related stats is 0. As the related stats increase, the chance to trigger commander ability will increase too. Click on the link to see a list and explanation of all Commander's Chance to Trigger Abilities.
The table shows the chance based on 500, 1000, 1500 and 1800 related stats.
Name
Type
Initial Chance
Accuracy and Electron Stats
500
1000
1200
1500
1800
Wildfire
Divine
15%
21.25%
40%
51%
71.25%
96%